THE TEAM
Rixwelle can draw on its wide resource base of professional consultants and research analysts with a combined 20 years of industry experience, and including graduate interns to any assignment. Theirs is an eclectic mix of competencies that span professionals in Solution Architecture, Business Analysis, Information Security, Quality Assurance, Economics, Statistics and Industry policy (SME focus). This makes for a highly versatile team with a flexible approach to problem solving.
OUR PRINCIPALS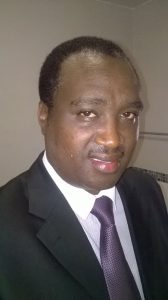 RICHARD MWITHUKIA CHEGE
Head : Digital Transformation
Richard Chege is a holder of BSc (Honours) in Computer Science from Egerton University (Kenya) and is currently completing his MSc in Project Management with University of Pretoria.
Richard has been in the ICT industry for the last 21 years in South Africa, both in the private and public environments. In summary, his consulting experience has covered program/project management, business analysis, custom software development, corporate ICT governance, business continuity, disaster recovery, information systems audit, and information security.
Richard has a sound and proven track record of managing the delivery of successful complex ICT programs/projects leveraging from acquired experience as an IT Professional (Software Engineering and Information Security) in different market places (Telecommunication, Government, Financial, etc.).
Richard is currently a member of the Project Management South Africa (PMSA) and the Project Management Institute (PMI).
For more information, please feel free to contact him on:
Tel: +27 12 312 5082 | Cell: +27 66 440 3680
Whatsapp: +27 71 407 1959 | SkypeID: live:mwithukia
Linkedin Profile: richard-mwithukia-chege-a8221a60/
TEAM LEADERS & ADMIN
Rixwelle principals do not believe in delegating what they can do for themselves except where, due to time constraints, project deadlines would suffer. Consequently, principal consultants also double down as team leaders and manage their teams accordingly. Deputy team leaders are picked from among the team members on a rotational based to develop leadership qualities in all our staff.
GRADUATE INTERNS
Rixwelle has a very strong commitment to the youth and takes every opportunity to recruit, train and mentor the best and brightest in the fields of ICT. Not only are they nimble, it is the experience of all principal consultants that, with enough challenge, training and mentoring, trained youth have an exceptional capacity for hardwork and delivering on tight deadlines. Rixwelle's organizational culture therefore seeks to provide an environment that encourages creativity, productivity and client-focused best practice and service delivery.